Miami, June 28, 2023 — Foreman.MN, a distinguished provider of mine management software, steps up to the plate as title sponsor at Mining Disrupt 2023. This partnership represents Foreman's determination to continually push the boundaries of blockchain technology and bring new advancements to the forefront of the industry.
Anchored in Miami, Florida from July 25th – 27th, Mining Disrupt 2023 is a confluence of technology pioneers, mining leaders, and blockchain enthusiasts. This event encourages the exchange of ideas, fosters networking, and highlights the latest technologies propelling the blockchain and cryptocurrency mining industry.
At Mining Disrupt 2023, Foreman.MN plans to demonstrate its comprehensive mine management software, showcasing revolutionary capabilities such as power control, automated demand response, cost avoidance measures, and site mapping, among others.
Foreman's significant presence at the event underlines its role as an industry pioneer pushing the boundaries of blockchain technology. The company has revolutionized mining operations with its software, empowering organizations to participate and shape the decentralized economy effectively.
Attendees at Mining Disrupt 2023 (www.miningdisrupt.com) will get an opportunity to gain hands-on exposure to Foreman's avant-garde solutions. This interactive experience coupled with insights from industry experts promises a unique and engaging learning experience for all participants.
To know more about Foreman and its industry-leading solutions, visit https://foreman.mn/ 
About Foreman:
Foreman stands out in the blockchain industry as a leading provider of comprehensive mine management software. By bringing all aspects of mining operations under one dashboard, Foreman helps businesses navigate the complexities of managing a mining facility. Offering capabilities from power control to automated demand response and cost avoidance, Foreman is reshaping the way businesses approach blockchain technology.
Source: Mining Disrupt Press (https://miningdisrupt.com/) 
Media Contact
Website:https://foreman.mn/ 
Email: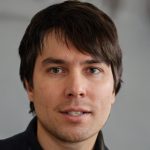 I am Clayton Weaver, a professional Crypto Author. I have been writing about Cryptocurrencies for over 3 years and have seen the industry grow immensely. I have also written a book on this subject which is available on Amazon. My focus is on helping people understand what Cryptocurrencies are, how they work, and why they are important. In addition to my writing, I also conduct workshops on this topic.